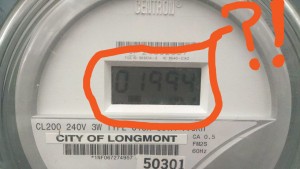 Working in my yard the other day, I happened to notice that my power meter is just about to cross the '2000' mark.
That's two thousand kilowatt hours, or roughly $200 of electricity. About the amount it takes to drive your Tesla Model S from Los Angeles to New York and back, or dry 570 loads of laundry in an electric clothes dryer, or run a modern laptop computer continuously for 11 years. It's also about the amount of power the average American household burns in two months.
Yet I installed the power meter you see in that picture in November 2013, and I'm writing this over 15 months later. Somehow, even accounting for all the power used to build this house and live in it since then, with all my welders and power saws, wife and boy, computers and audio systems, lights and appliances, we've averaged about 80% less than the average household.
The performance looks even better when you compare against high-income households: one of my Canadian friends ruefully admitted that his power bill tops $900 per month every January as his electric heat pump fights to keep his large custom home warm in the face of Ottawa's near-arctic winter weather. A Texan friend reports a $300 per month cooling bill for the hottest four months of the year, and even a fellow Coloradan uses over $200 per month with very little climate control at all.
All of this supposed efficiency, even though I live in what I consider to be a bath of glorious electricity consumption.  I have a giant LG fridge that gets heavy use every day: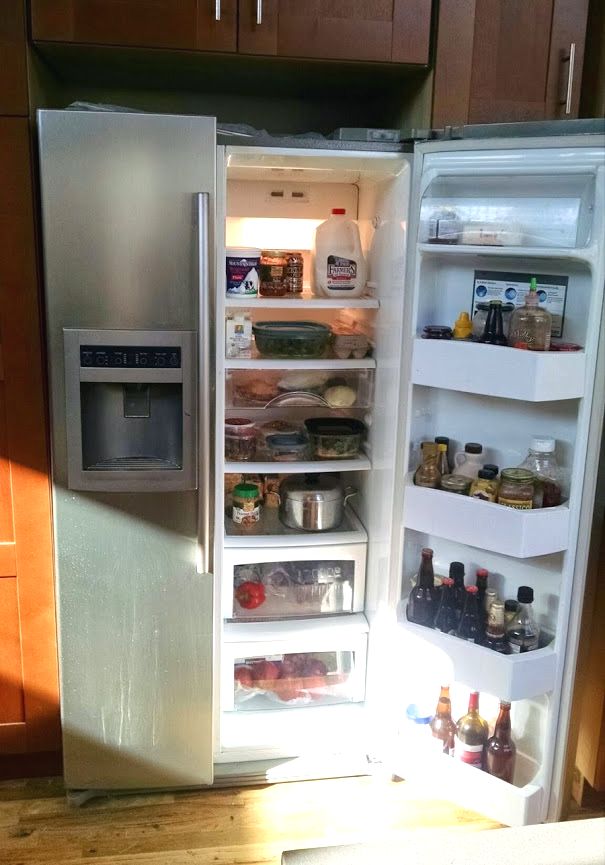 I also have this fancyass Samsung dishwasher from Craigslist that runs several times a week in order to protect my lazy hands from the dangers of too much manual dishwashing: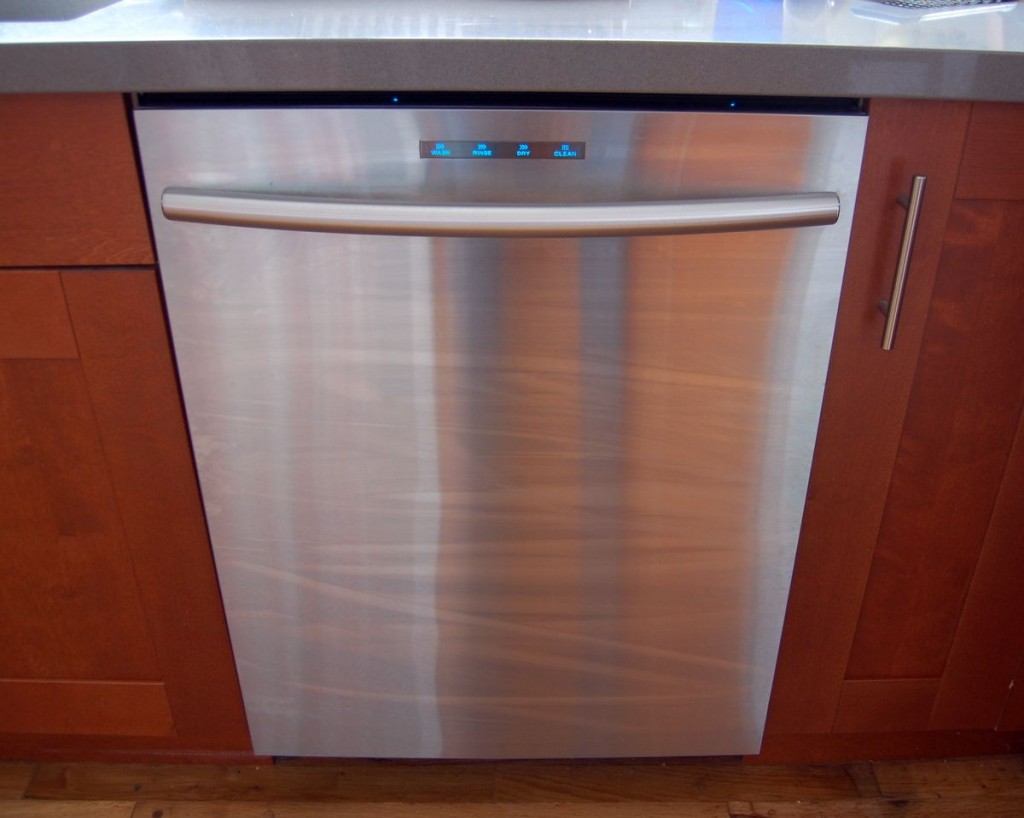 On any given night when viewed from the park, my house looks like this: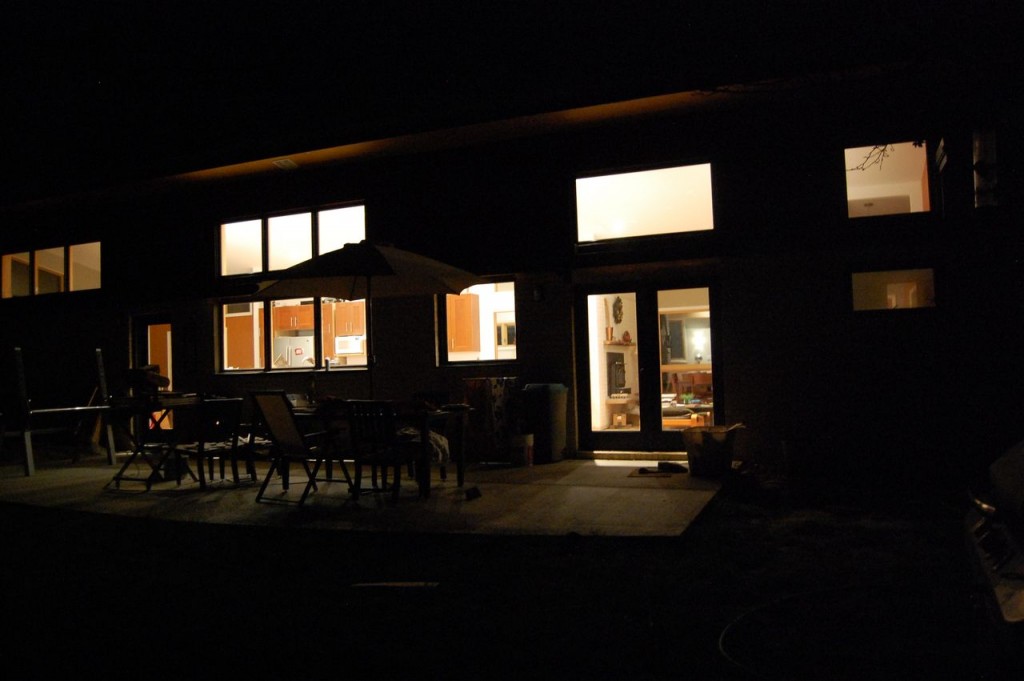 There is no shortage of electricity flying around in my residence.
How can this be?
The stakes are large: This electrical advantage saves me tens of of thousands of dollars per decade, and it takes very little effort to maintain it. If everybody ran their house and business like this, we could shut down most of our coal power plants (38% of the nation's CO2 emissions) almost overnight*.  As with most Mustachian Life Hacks, the key lies in understanding what is actually going on.
1: Measure Everything, then get Angry at Waste
As a quick shortcut for understanding the impact of electricity waste, remember this rule: Every watt of constant drain costs you about $12.63 per decade in lost wealth.
A tiny 2-watt seashell nightlight in your guest bathroom?  25 bucks. A forgotten incandescent porch light that never turns off? $758.00  A hot tub or pool pump that is on for an average of just two hours a day? $1578 burned. If you think a decade is a long time to make such a measurement, think again – ten years is the minimum amount to be thinking about when your goal is to become wealthy.
In my house, devices don't just get to slurp on power without supervision. I test everything at least once, so I can understand where my power goes and decide if that's a worthwhile bit of spending. To accomplish this, I use a combination of measurement tools. But don't be turned off if you're not an electrical nerd like me – you don't have to measure everything if you are not so inclined. There is a list of shortcuts coming up too.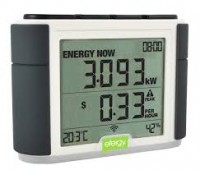 The Efergy Elite Combo system comes with a very small wireless clamp that sits permanently around the main input wires in my circuit panel and measures power consumption right down to the watt with 10 second resolution. You set it and forget it. This power consumption is then displayed on a wireless unit in my kitchen and also logged permanently online, where I can review graphs from my phone or computer:
By watching the display, I can see how much power it takes when the fridge kicks on, or when I run the dishwasher, or flip on a bank of lights in the kitchen. It also helps me find phantom loads: when you think everything is off, but your household consumption is still over 100 watts, something is wrong. I tracked down three faulty smoke detectors that were burning over 5 watts each and replaced them with units that use under 1 watt. Then I discovered that my Yamaha amplifiers burn 25 watts each if you leave them on, even when there is no music playing. This was bad, because I was often forgetting them overnight.
The benefit of the Efergy is its ability to measure even direct-wired devices: alarms, dishwashers, your central a/c system, or the unwanted pipe heater that the previous owner installed in your crawlspace to prevent frozen pipes.. but then left on for 12 months of the year regardless of temperature (which would cost you $1902 per decade, in case you were curious).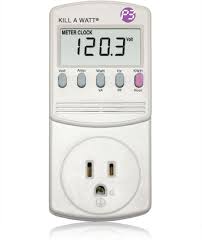 The lower-tech plug-in meter is ideal for testing individual appliances over a longer period. For example, I was able to determine that my fridge uses 1.1 kwh per day, which translates to 401 kWh per year, or about 40 bucks.
Another favorite on my lab bench is the clamp-on current meter. Among other uses, this $40 wonder allows instantaneous measurement of the current running through an individual circuit in your breaker panel. It also comes in handy when diagnosing things like a broken electric lawnmower or vacuum cleaner:
2. Put it all into Action
Here are the biggest power consumers in the typical home, and how I have optimized some of their worst guzzling out of my own bill.
Lights
If your interior space is lit with lamps or a few fixtures, it's an easy fix: make sure they are all running on good compact fluorescent or LED bulbs.  But more recently-built houses (including mine) are usually done with a larger number of recessed lights within the ceiling itself. These produce a nice light with the builder-standard incandescent reflector bulbs but will destroy your electricity budget. Compact fluorescents of this format (PAR30) tend to be poor in quality and slow to reach full brightness. So I bypassed the problems by outfitting my house with the now-affordable PAR30 LEDs – the best bulb I've found for the job is the Hyperikon Bulb at Amazon because of its warm 2700k color and reasonable 40 degree beam angle (amazingly good light and under ten buck each now).
But if you look in detail at this picture of some of my interior lights, you'll notice something odd…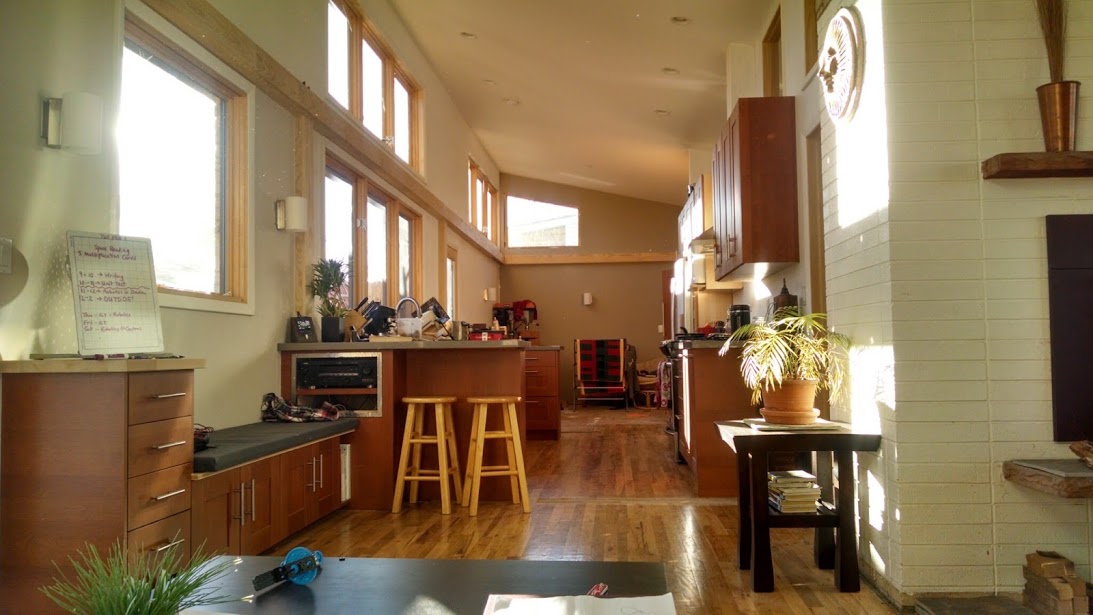 ..they're off most of the time. This is because I built my windows into the side of the house that faces the sun, and keep those windows clean and free from curtains or other obstructions.  This is not always an easy thing to change in your current house, but is a great factor to consider when shopping for your next one. And there's a much bigger benefit than lower electricity and heating bills: higher happiness. Having a bright, daylit living space will improve your mood, productivity, and entire outlook on life.
Only once house buyers start demanding daylight-oriented design, will house builders wise up and start providing it.
Exterior Lights:
Fancy houses are often designed to look like a luxury resort at night, with landscape and path lighting, uplights highlighting the structure, pool lights, driveway lights, and so on. The quickest shortcut is to live in a smaller compound. But if you do have outdoor lighting, keep it to a minimum and use LEDs in all fixtures since they run for many hours per day. In my house, I leave no exterior lights on overnight at all – the glow from streetlights is more than enough to find your way around at night.
The Clothes Dryer: 
This is an emotional one, since some people consider this appliance to be humankind's highest achievement. But consider this: even with seven figures in the bank, the MMM family has not even owned a clothes dryer since June 2014. I just prefer hanging clothes to dry outside (or inside if the weather requires it). It's a meditative and pleasantly physical task, and your clothes smell better and last longer as a side benefit. And it burns very little time, because we only do a single load of laundry per week. You don't have to go dryer-free to get most of this benefit – just use it more consciously and only wash stuff when it actually needs washing.
Air Conditioning:
We've already talked about this here, but the basic idea is to take the opposite approach of certain residents of the American South: use the A/C, but as little as possible rather than as much as possible. Always challenge your temperature threshold just as you should always challenge your physical threshold and seek to do the most difficult things you can handle, rather than minimizing the effort you put out with elevators and self-closing car trunks.
Electric Heating of Anything: 
If you're stuck with an electric water heater, your electricity bill will exceed mine just in the process of taking showers and doing dishes. Don't put up with it! These days you can replace an old-school electric tank with a heat pump water heater**. Electric baseboard heat can be replaced by a heat pump ductless system. If you're stuck with an electric range and you would prefer to cook with natural gas (which is awesome), it is surprisingly easy to add a gas line to your kitchen – I ran my own using the newer flexible stainless steel gas line system available at the major home supply shops.
If you live in an area with a cold climate and oil-based heat, look into a ground-sourced Geothermal heat system. Several years ago, our mutual friend Mr. Frugal Toque (just outside of Ottawa, Canada) ditched his oil furnace and hired a contractor to replace it with a ground-source heat pump. He forked over $25k (after rebates) for the upgrade, but it saves him at least $2000 per year in heating and cooling costs, and the capital value will easily be recouped at home resale time, as heating bills are high on the minds of people in that area.
Gadgets: DVRs, Playstation-type game consoles and cable boxes have gained notoriety in recent years because they can use 50 or even 100 watts when you're not even using them. This is unacceptable – any vampire over 1 watt deserves to be starved, so you'll want to shut down computers that aren't in use. The cable and playstation issue is easier to solve: return the box to the cable company and cancel your service, and sell the game system.. you have more valuable things to do with your free time!
Your Sorry Old Fridge:
Saving the best for last, you may have a chance to upgrade the luxury in your lifestyle while making a good investment at the same time. New fridges often greatly outperform old ones,  because EPA rules and consumer demand have pulled the technology forward.
For example, my neighborhood friend The Garage Grocer replaced an old 1970s freezer with a 2007 model of identical size. Power consumption dropped from 155 kWh/month to 64.5, a savings that compounds to roughly $1582 per decade if invested conservatively. The new freezer cost him around $200 on craigslist. My giant fancy LG fridge uses well under 40 kWh per month and cost me $600 (also on Craigslist but much newer) – but only because I insisted on the  luxury stainless steel model, consistent with the rest of my ridiculous lifestyle.
With the right adjustments, your electric bill can be a trivial affair that feels like a small monthly reward for your thoughtful use, rather than a painful but necessary draining of your bank account.  Happy demon hunting!
*If America then went on to read the article about Car Clowns, we'd be down an additional 32%, meaning 70% of our carbon emissions would be wiped out just like that. Who says global warming is such a big deal?
Further Inspiration: in response to this post, a reader named Mark sent me the annual power graph, for his 2200 SF house in Minneapolis. His electric company allows you to compare your consumption to that of your neighbors. Of course, the Mustachian line is the blue one way, way down below any of the other ones, quietly saving him loads of cash.