Before we begin, I should probably admit that the Mustache family absolutely did not need a new car. Or even a new used car. In fact, we didn't even need the two older used cars that we have been keeping around for the last five years, because our local life has blossomed so nicely in this small city that there is really nothing outside of biking distance, aside from the odd trip to the airport.
If I were still my real retired self (circa 2005-2011), we probably would have sold these vehicles and gone blissfully car-free, combining bikes and bike trailers, with car sharing, carpooling, rentals, and Uber/Lyft rides for our trips out of town, which only average twice per month. The money savings of maybe $2000 per year would only be a minor improvement to our annual spending, but the peace of mind of a clear driveway, no maintenance or registration or maintenance or insurance, and the joy of trying something new, would be worth much more.
But instead, I now lead this dual life: Normal Pete, the retired Dad/carpenter is in control for 90% of my waking hours, but like a werewolf, his alter ego Mr. Money Mustache (circa 2011 to present) takes over occasionally, and he has a different agenda.
MMM is restless, reckless, bossy, prone to experimentation, has a surplus of blog-related income at his disposal, and has to answer to millions of people. Pete's friends mostly live nearby and already ride bikes, but certain MMM readers are still burning millions of gallons of gasoline driving gas-powered cars on long commutes. Many of them want to know if there is a better way.
So, Mr. Money Mustache just bought himself a brand-new, 2016 Nissan Leaf to run a long-term science experiment and report the data back to you. Pete is a bit nervous about this shiny new toy in the driveway, but he will do his best to have some fun with it.
Why is this a Valid Experiment?
As I mentioned in the recent post about Driving a Tesla to California, I think we're on the cusp of a very positive change in transportation. Gasoline-powered cars are just about to go the way of the dinosaurs they burn as fuel, and they'll be replaced by a mixture of electric cars you can drive yourself, and electric cars that drive themselves. 
However, this transition is just getting started. Over 99% of new cars sold in the US are still gas-powered, and when I run the numbers as an engineer and car enthusiast, I find this to be preposterous. Logically, this should already be less than 50%, and by the end of this decade, it should be zero. The only thing keeping more people from ditching gasoline is that people don't realize how fucking amazing electric cars are, and I feel I should do my part to share this information. The most effective way to do this is to own one myself and write about the experience.
So Why Did You Choose a Brand-New Nissan Leaf?
The simplest way to explain might be to draw a complete picture of the US car market as I see it – including both gas and electric vehicles of all categories. This decision-making chart covers the spectrum of personal transportation needs for, as far as I can tell, about 99% of the population.
I was initially looking for a 2013 Leaf, but given my city's location (90 miles roundtrip to the airport and some other key destinations) the longer range of the 2016 SV model would eliminate all possible range anxiety. Plus, given our unusual money situation these days and my desire to support the EV market in general, I figured the extra dollars would not be missed.
Update, October 11th: The Leaf comes in three trim levels called "S", "SV", and "SL". They are each about $3000 apart in price. Those top two trim levels have a 25% bigger battery, so I upgraded to the SV to get it. But as of today, Nissan has revealed they will start offering the bigger battery even in the base model. So you can now get the higher range for a few grand less than what I describe in this article.
What about Other Electric Cars?
Besides the Leaf, there are EV versions of the Ford Focus, Volkswagen Golf, Audi A3, BMW i3 and a bunch of other cars. By the end of 2016, the new GM Bolt will be out with 240 miles range, at a higher price. GM has also made the excellent Volt plug-in hybrid  since 2011, which is now pretty affordable on Craigslist. In another 2 years or so, you can get a Tesla Model 3 for $35k before tax credits. And the cars will keep getting better as battery prices drop.
I just chose the Leaf because I wanted to completely ditch the gasoline engine right now. It offered the best price/performance ratio in today's market and is the most widely available. As you'll see below, it could actually be considered a cost-effective choice despite the rapidly changing technology.
How Much Does This Thing Cost?
Now THIS is where things get interesting.
Straight off of my sales sheet, this is what the car will cost me:
Sticker Price (from the car window): $35,445
Dealer Handling Fee (aka more profit margin) added in: $600
Assorted Discounts from Dealer: (-4500)
Hard-to-Explain Discount from Nissan Finance: (-6000)
Federal Tax Credit: (-7500)
Colorado State Tax Credit: (-4653)
Sorta Net Price of Car: $13,391
However, it's not quite that good, because many of these discounts are taken only after you pay sales tax on the full price of the car ($31,544 in this case). In my region, sales tax is about 8.26%, so I paid $2605 of tax. About $1500 more than you'd pay on a car that was really priced at 14 grand.
So my total out-of-pocket cost with tax will be $16,000, which is equivalent to buying a brand-new car with a list price of $14,775. This is right around the price of the cheapest new cars* you can get in the US these days. The difference, of course, is that you get something that is fast, silent, pollution-free, almost free to refuel, carpool-lane eligible and pretty luxurious instead of an economy car.
My Dirty Financing Secret and the Strange Positive Cashflow
Blowing all credibility as Mr. Money Mustache, I actually financed this car.
In order to get that "hard to explain $6000 discount" from Nissan, you have to buy the car with zero downpayment and a 0% interest rate. You can then choose to pay the car off at any point, or let the free money ride over a 72 month payoff period.
I've bought new vehicles twice before in my lifetime, and both times I got a discount for paying cash. In this case, the incentives are reversed. (If you work in the financial sector, please let us know in the comments section below why it makes any sense for Nissan to do this!)
The only downside of all this is that carrying a car loan requires me to carry at least $1000-deductible collision/comprehensive insurance on the car, which costs me $190 per year extra at Geico. My car loan is for the full $28,000, so the insurance premium works out to only 0.6% of this balance per year – much less than I'll earn by investing that money elsewhere, so therefore I'll keep the loan unless it becomes a pain for some reason.
The net of all this is a very odd cashflow diagram for buying this car:
I drove the car home without paying anything at all – I just signed a few papers. Two weeks in, I still haven't paid a dime, which feels really inappropriate.
Meanwhile, I have already sold my old car on Craigslist and collected $5000 in cash, which is now in the bank. In about a month, Nissan will start withdrawing "car payments" from my bank at $400 per month. But at tax time, I'll collect that juicy $12,150 in tax credits we saw above. Meanwhile, there are fuel savings every month, and I get to enjoy living in the future (and promoting the joy of gas-free transport to everyone else) the whole time.
The bottom line is that at on balance, I will actually have more money sitting in investments than I would have, if I had kept the old car – at least until mid-2021. On top of that, I've placed the new car in service as a business vehicle, which will make it partially tax deductible and skew those graph lines even higher.
At the end of the graph, I put a blip to simulate what would happen if I sold the Leaf for $7500 at that point. Meanwhile, my Scion would have been 16 years old and worth maybe $2000. Who knows what the year 2022 will bring – I could keep the Leaf, or perhaps switch to the latest self-driving electric car with a 400 mile range and replace my domestic air travel with sleeping in my future car while it drives me across the country at night.
Maintenance is much simpler on electric cars, but the battery does fade gradually. The warranty is 8 years, but you might be down to about 50% range after 100,000 miles. The Leaf battery can easily be swapped, at which point you'll have an almost-new car. If you're beyond the warranty period, the current price for this upgrade at a Nissan dealership is $5500, although with battery prices down 80% over the last 10 years, I would expect this to be about 50% lower by the time a new battery grows old enough to need replacement. For now, you could consider long-term battery wear to be roughly equivalent to engine maintenance costs on a very reliable small car (3 cents per mile).
Is it Actually A Nice Car?
In general, the Leaf is a spiffy vehicle, both inside and out. Interior materials are reasonably classy, especially if you get the black interior. Seats have a firm, reasonably sporty shape.The 5-door hatchback design makes it easy to load and unload people and cargo. Both front and back seating areas, and the trunk, are quite roomy. I can easily fit five of me into the car (6'0/185 lbs), and two more of me could actually fit into the hatch (without such niceties as seatbelts or comfort, of course). Or you can fold down the 60/40 rear seats and have an area big enough for two bikes or 1-2 adults sleeping (if you set up a level sleeping platform). Overnight camping (even in winter) in an electric car is somewhat practical, because you can run the automatic climate control overnight without running out of battery – even better if you have it plugged in.
The car has some semi-useful electronics as well: a permanent cellular data connection allows you to check on the Leaf from your smartphone if you install the Nissan app. You can pre-heat (or pre-cool) the cabin from the comfort of your bed or office, as well as start/stop charging, check the charge level and review your driving history and efficiency with a nice calendar-based record. There's also a GPS navigation system.
However, the whole system of menus, displays, and the app are a tech experience straight out of 2007. If you judge the Nissan by current iPhone/Android standards, you can only laugh and shake your head. On the other hand, even the Tesla Model S touchscreen is no match for a modern tablet.
Finally, the Leaf's audio system sounds quite good thanks to 6 speakers including column-mounted tweeters. I filled up a 32GB USB drive (value $9) with about 500 of my favorite albums in MP3 form, and plugged it into the port on the dashboard. The car navigates the folders nicely and displays the album art. So I'm set for life and never have to resort to commercial FM or satellite radio.
How's the Performance?
The Leaf is a controversial car: some say it is ugly and drives like an econobox, while I find it looks pretty damned nice, especially with the 17″ wheels and wide performance tires (215/50/17) that now come on the SV and SL models.
The weight distribution is close to 50/50 and nice and low, with the battery pack way down under the floor and the electric motor between the front wheels. Combining those good tires with the reasonably tight suspension, I find you can whip this car around on a curvy mountain road and it handles it very well. Cornering and passing in the city and interstate is similarly enjoyable.
But the best part is the acceleration. Subjectively, I'd describe the typical economy car or SUV as "plenty fast", and a midrange performance car as "way faster than you need." The Leaf feels even faster, at "holy shit this thing is fast!" – only a couple of impractical notches below my impression of the Tesla Model S, whose acceleration is "YEEEAAAH-WHAT THE HELL I'M ABOUT TO CRASH INTO THIS CAR THAT WAS JUST DISTANT SPECK ON THE HORIZON TWO SECONDS AGO!!"
The speed is a bit elusive: acceleration around town is fierce, but the official 0-60MPH acceleration numbers for the car are hard to find. So I tested it myself by flooring the car with a camera mounted in the back. You can also get a feel for the smooth, quiet operation of this car as there's a bit of regular driving thrown in there: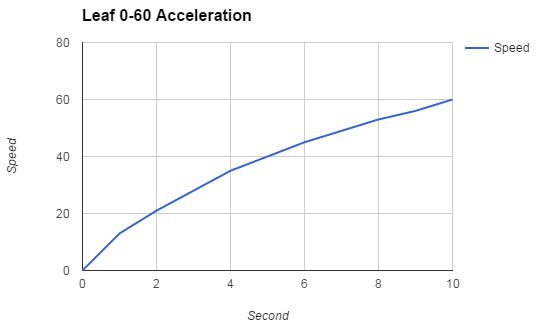 As noted in the video, the actual numbers are only average compared to professional driver results on a moderately sporty car like a Honda Civic. But the instant 100% torque (187 ft-lbs of it) means that casually hitting the gas pedal on this car is equivalent to instantly shifting down to first gear in that Honda, revving the engine to 4000 RPM, then dropping the clutch at full throttle and powershifting through the gears at redline. Most people don't drive like that in real life, and thus an electric car feels much faster for most drivers.
How Far Can it Go on a Charge? (and how much does the charging cost?)
The EPA rates the car at 107 miles per charge, because they simulate typical American driving patterns (full throttle at all times with constant unnecessary braking, and a parachute and a sack of bricks attached to the back of the car). So far, my lowest performance has been 115 miles (25 miles remaining after a 90 mile roundtrip to a far corner of Denver, mostly on the interstate at 70-80 MPH with A/C). And my best is around 150 miles (city and country driving averaging about 45MPH).
"How Long Does it Take to Charge?" is usually the next question, but the idea of waiting to fuel your car is actually somewhat obsolete. Because you generally just leave it plugged in every night, you awake to a car that is totally full – so most electric car owners never need to make a refueling stop. Much more convenient than gasoline.
However, to actually answer the question – you also can charge the car from empty to full in about 5 hours at the typical public charging station (these are often free to use). Or about 30 minutes at a DC fast charging station. Nissan provides 2 years of free nationwide charging with new Leafs. Public charging is starting to become pretty useful:
There are over 36,000 public charging machines in the US, and the number grows by over ten per day.  This should continue to accelerate, because an 8-car gasoline pumping station costs about $1 million to build, while an 8-spot EV charger would be less than half the cost, and requires much less land (plus profit margins on electricity can be much higher than those on gasoline). Existing gas station chains including BP are already adding electric charging stations alongside their gas pumps.
Both coasts have already set up an "electric highway" infrastructure, which is a string of the ultra-fast 30 minute chargers spaced conveniently for electric cars.
If I'm charging at home, the car holds about 30 kWh of electricity, which costs roughly $3.00 at my local electric rates. By comparison, an economy car (35MPG) would burn around $10 of gas at today's cheap prices to go the same distance, which means the Leaf is getting the equivalent of roughly 115 MPG. This comparison gets even better as the price of gas increases.
Do I Need an Expensive Home Charging Station?
In most cases, no. Just plug the car into a regular outlet whenever you aren't using it, using the cord that comes with the car. This adds 4-5 miles of charge per hour, or 60 miles per day if you leave your car parked from, say, 7PM to 7AM.
If you need faster home charging (3-4x faster than the standard cord), you grab a 240 volt charger (about $300 on Amazon), and plug it in to any dryer plug. You can add an outlet like this in your garage or driveway for about $60 in parts and wiring, or hire an electrician to do it for a few hundred dollars, depending on the distance from your main breaker panel. Or you can get even fancier – search Amazon for "J1772" for all your options.
It's even better if you can plug it in at work and let your employer pay for your energy.
Don't Electric Cars Pollute Just as Much because of Coal Power Generation?
No. Because electric motors are much more efficient, even the worst case (charging an electric car purely on coal-fired electricity) comes out slightly better than burning the typical fracked and imported gasoline mix. Even better, the US electric grid is only about 28% coal these days, and dropping. Natural gas is still our biggest generator for now, but solar and wind account for almost half of new capacity added each year.
At my house, I've enjoyed 100% wind power for over 10 years, just by signing up to my local power company's wind power program. Whether you buy an electric car or not, you should check with your electric company and switch to wind power (or install solar panels) immediately. And save your receipt, because I might use it as an excuse to invite you to lunch someday.
Further Reading:
This car is a pretty new thing for me. As I have some fun and test it out, I'll put the results on a permanent page on this blog called The Nissan Leaf Experiment.
Although I have no affiliation with Nissan or any car dealership, I had a great experience buying this from Nigel at Boulder Nissan, because he's a genuine EV nerd rather than a car salesman. If you're shopping for one of these cars, feel free to compare the price I paid price to those at your own local dealership, or contact Nigel himself. You can tell him MMM sent you (he'll know what that means).
Have Questions? Ask them in the comments below
I really enjoy talking about energy and transportation stuff, so I will do my best to answer more questions below. Also, I suspect that about half of the world's 97,000 Leafs are owned by Mustachians since we are the ideal demographic for such inventions. So you're an owner and know the answer to one of the questions, feel free to answer it on my behalf. And also share any corrections to this article if you see some incorrect details.
* note: most of the cars on that 10-most-affordable-cars list are excellent choices, especially the Honda Fit
** notice how my phone reports a different range than the main screen? That's the perfect example of the clunky interface. You have to manually hit the "refresh" button on the phone app, which then goes into an unsightly 1990s spinning animation for, quite literally 38 seconds before you get the new data.
I can't help imagining the request must be triggering a pager on someone's belt at the Nissan Tennessee factory, who then runs to the nearest landline telephone and frantically makes a call.
Martha: "Hello, Bill? This is Martha at Nissan Tennessee. We need a range check on Mr. Money Mustache's Leaf in Longmont Colorado!" 
Bill: "No problem, I'm right in that neighborhood right now! I'll pull into his street and check on the car. Stand by. (…)"
Bill: "OK! I got it! He's at 124 miles remaining."
Martha: "Thanks Bill! You are like a gazelle these days. How are the kids?"
Bill: "Well, Bill Jr. is a little bit sick, but we're doing pretty well. Cynthia's starting soccer next week…"
Martha: "Well, I better get this number entered into the mainframe. Talk to you later!"
Bill: "Sure thing, talk to you later!"
A few seconds later, I get my range update.
Hint to Nissan: you can poll this shit asynchronously in the background, and then the data will be reasonably current whenever I open the app. You cannot have 38 second delays in a product that you actually ship to customers. Who actually saw this and said, "Ship it!"?? Please hire some Mustachians to design all aspects of your interface in the future. We can help if you want to get in touch before the next Leaf comes out. Your look-and-feel grace period is almost over, as Tesla will not be gentle with you.