In September 2016 I bought a brand-new Nissan Leaf SV with the new 25% bigger battery (30 kWh) This page will keep track of ongoing data, modifications, observations, and such.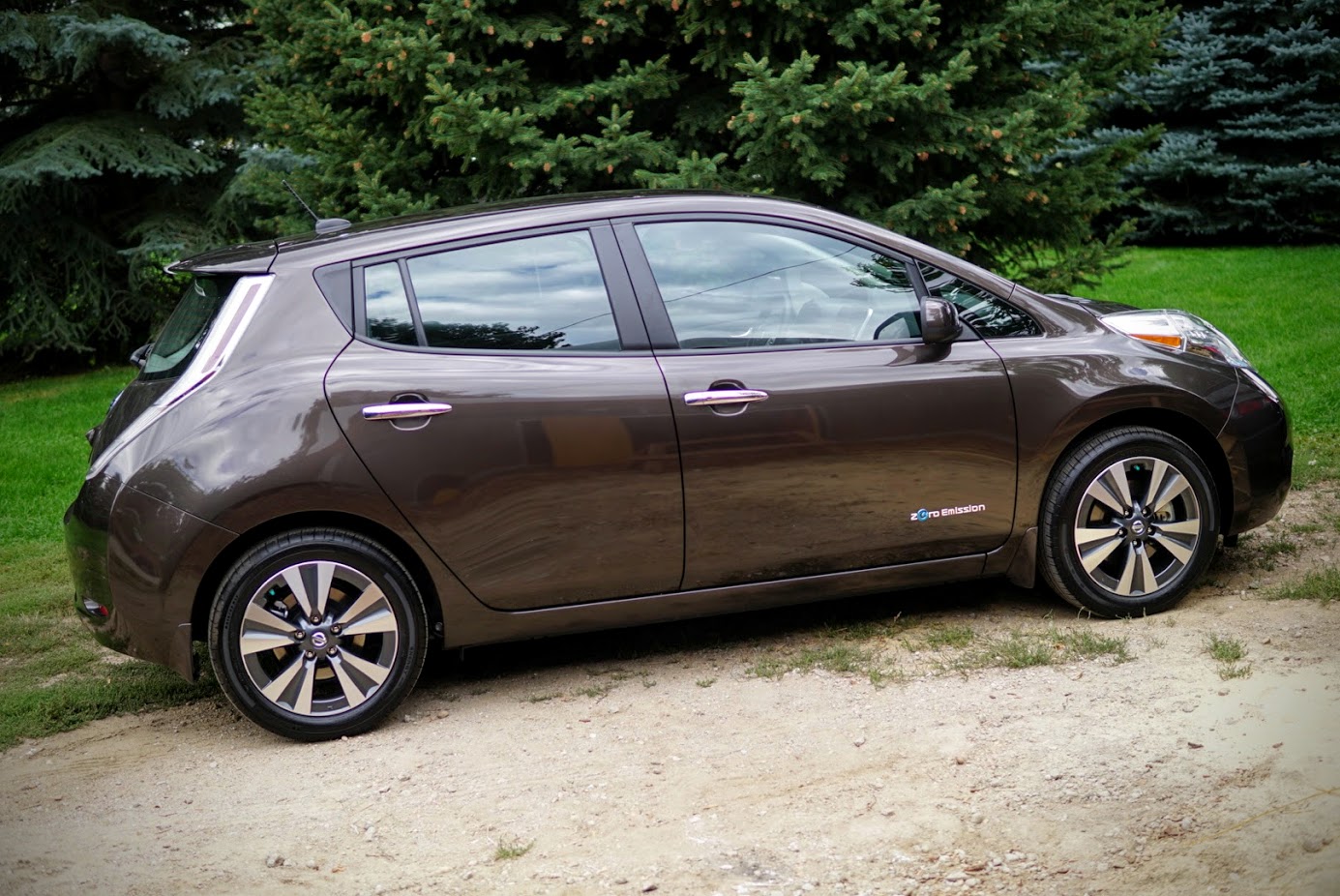 A Brief History of the Leaf
As of 2018, the Nissan Leaf is currently in its fourth revision, although mine is a third generation. If you find yourself interested in acquiring one, the right choice depends on your driving requirements and your financial situation. Here's a quick summary of what happened in each model year:
2011-2012: The first generation came out. Battery capacity was 24 kWh, but this first version was known to very delicate. Heat, age, and heavy use mean that the batteries in this generation are a mixed lot. The battery came with a 5 year/60,000 mile warranty, and you'll find some on the market that have been upgraded with new batteries. The EPA range estimate was only 73 miles, early drivers reported 80-90. At this point, you can probably expect 60-70 miles per charge on an original generation Leaf (less at speeds over 60 MPH)
2013: The car received about 100 upgrades for the model year. Most notable for me were some battery improvements, a more efficient heating/cooling system, and more trunk space since they cleaned up the layout somewhat. EPA range jumped to 87 miles.
2015: A new battery chemistry known as "the lizard battery" comes out – designed to be more resistant to heat. This should be significant, because many of the earlier Leaf battery problems occurred in places like Phoenix, Arizona with extremely hot weather, or in drivers who had a particularly intense driving cycle (long, high-speed drives and rapid charging tend to heat up the battery).
2016: a new 30kWh battery was added for the more upscale SV and SL trims. The 25% larger capacity should improve both range and lifespan, since you are now using a smaller percentage of the battery's energy for any given drive. As of Late 2016, you can also get the bigger battery in the S model – an ideal change if your goal is to minimize cost.
2018: A much bigger upgrade! The car got new styling inside and out, the standard battery jumped to 40 kWh (about 150 miles) of capacity, acceleration was upgraded, and miraculously the list price actually dropped slightly. This is the miracle of advancing technology – since batteries are a big part of this car's price, advancement in batteries goes right down to the price tag.
Current Status and Stories:
April 2023: After almost seven years of nearly perfect experience of owning this car, I am selling it to a local friend. Resale value of the car is about $10.5k right now, which is great given the fact that I paid under $14k for it brand new after all the discounts.
Miles accumulated: about 18,500
Estimated battery health remaining: about 80% (mostly due to age rather than mileage)
Problems, maintenance or repairs with the car: Zero
Overall thoughts: the Leaf is still the perfect car for anybody who does errands, kid shuttling, or commuting with a round-trip distance of less than 60 miles (further if you have access to any sort of charger or even a standard power outlet at work).
I am shocked that this car didn't catch on more than it did, because it's absolutely the ultimate vehicle for 95% of typical car use. It's fast, quiet, handles well, and holds lots of people and stuff.
Nowadays, if you can find a 2016 or newer Leaf for this price range, or a used Chevrolet Bolt with 250 miles of range for under $15k, or get your hands on a new one (under $20k after tax credits), it's still the best deal in electric car driving if the range meets your needs.
December 2016: As the fall and winter came, I started seeing lower range on my car, which is normal in cold temperatures.
But I wondered if mine was worse than average, because in summer it could easily do 110 miles on the highway,  whereas at 15 degrees F I ran out of juice after only 78 miles (I stubbornly ignored the low battery warning and actually ran flat while waiting at an intersection. Had to call the slow-but-free Nissan towing service to get the remaining 8 miles home.)
On top of that, my car's estimate of its own battery health was dropping much faster than expected. After 18 months of ownership, it had already lost 15% of its capacity, even with only 4500 miles on the odometer!
So I did a bunch of testing at different temperatures, comparisons to other new Leafs, etc.
Final Diagnosis: Initially, it looked grim: I presented my charts and graphs data to Nissan, but it's such a big and bureaucratic company that I got nowhere.
While they had a good heart in trying to support me in the investigation, I found that very few people higher up in the company know anything about electric cars. Even with the high profile of this blog and frequent reposting of my earlier article by the MarketWatch newspaper, I wasn't able to talk to a single Nissan engineer to find my technical answers.
This is a notable contrast to Tesla, where people who work on the cars and the Supercharger network actually read these articles and send me emails proactively. A great practice for reaching your true fans – hint, hint. 
The Nissan Leaf is still the bargain of the electric car world and has a great, practical cargo and passenger space, so it's hard not to like it. But it's hard to like Nissan itself.  I'd feel much better about supporting Tesla, if I were willing to burn that much money on a car!
But here's the good news:
My car turned out to be fine after all. A year after ignoring my reports to them (and even unnecessarily replacing some brand-new packs under warranty!) Nissan discovered a software bug in their battery management system and issued a warranty recall. I got it reprogrammed at the local dealer at no charge, and this was the result.
Still, the car really should have a battery heater like GM and Tesla electric cars do, which would boost winter range drastically.
On the other hand, used Leafs are incredibly affordable and they are everywhere. Still a great car year-round and if you have a gas-powered commute, you owe it to yourself to test drive one of these things.
It's a night and day difference in how pleasant and fun the driving experience can be. Gas cars are so doomed.