One of the biggest causes of my optimism for humanity's future is something I call the Rise of the Benevolent Billionaire Nerds.
See, in the olden days, it seems that the people who rose to great power were the most aggressive ones. Warlords and Imperialists. Then the steel and railroad titans, the Mafia, and more recently publishing and oil and military tycoons. While the level of violence and corruption varied, these kingpins of the old guard were all good at converting low-wage manual labor into power and high-profit products. But often their rise was boosted through a mixture of ruthless business practices,  suppressing opposing views, political connections and bribery.  In colloquial terms, the billionaires were often the men with the biggest balls.
Nowadays, I notice a different trend. The Internet has eliminated the ability to suppress information – the stuff wants to be free. It has also opened the incredible trillion dollar treasure chest of the technology industry: a game you can only win by employing a large number of the most brilliant minds.
This game has different rules: you make a lot more money by honestly providing great technology (Google, Tesla) than by crafting misleading introductory offers and buying elections in an attempt to sell more of your mediocre stuff (my local cable company). To create such complex companies, you need not only brilliant workers, but exceptionally bright founders and CEOs too. This means the new billionaires are the women and men with the biggest brains.
This leads us to the Bill and Melinda Gates Foundation – the most powerful and efficient World-Saving Machine that has ever been dreamed up by humans up to this point in history. The 1400-strong group is a sort of a Do-gooder Engineer's Dream Team – a combination of some of the world's most effective minds, honed by business experience and powered by roughly $40,000,000,000.00 of money that was made mostly in private enterprise and then donated for the betterment of the world.
A fortune like this could be used to buy governments and build nuclear bombs, but instead Gates and company seem to be following roughly this logical path:
Start by helping the poorest people with the most urgent health crises
Provide better access to education, which drastically reduces poverty
Once on this stronger, happier footing, people choose to have far fewer babies
You now have much less misery and more equality in the world
Bill is also highly interested in climate change since rising sea levels, storms, droughts and floods all hit the poorest countries the hardest. Here in the US, we can afford to move or reinforce our coastal cities and redesign our farms. But in poverty-stricken regions, floods and epidemics tend to kill thousands or millions of people.
In short, it's a great plan designed and backed by some of the world's greatest brains. But where I dare to diverge from the Gates Foundation, just a little, is in this equation that Bill explained in a recent video: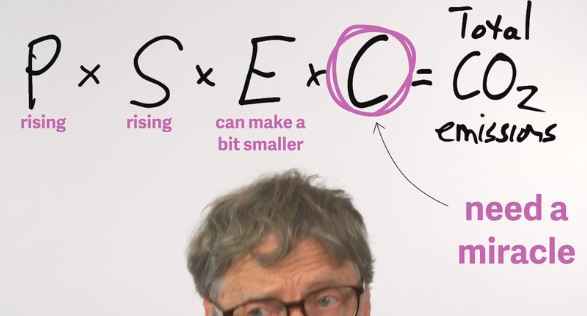 He rightly states that our total Carbon emissions are a multiple of four (really three) things:
(Population) x (Energy Burned Per Person) x (How Dirty our Energy is).
Population is still on the rise, for now. The world's poorest people will gradually move up to having refrigerators and indoor housing, so the number of "Services" will rise. But my challenge is in the "E" part. He says that we can maybe reduce that part by half over the next 30 years. I claim that we can EASILY reduce that by 75% immediately, because right now almost all of the energy used by the rich world is wasted.
For example, consider the average American, driving a car 15 miles each way to work. They burn a gallon of gas per day, which would be 33 kilowatt-hours if you could convert this to electricity with no loss. Those who choose to commute in trucks are at double that figure.
Meanwhile, an electric bike does this trip for about 0.6 kilowatt hours at roughly the same average speed in typical traffic conditions, meaning  about 98% of that car's energy was wasted, compared to the superior alternative of the bike. Using our cars less often reduces the need to build and replace cars, which cuts the energy and steel use at the factory, and so on down the chain.
I've visited houses where people set their air conditioning at 72 degrees F in the summer, on days when the outdoor temperature is only 80F. This decision alone can burn 6 kilowatt hours of energy per day. Since the human body is capable of being perfectly comfortable at 80F, 100% of this energy is being wasted! Our irrational self-defeating addiction to convenience and soft flabby TV-absorbing laziness increases our energy use while making our lives less enjoyable.
You could go on to list hundreds of tiny, easy optimizations like this which affect every part of the rich world's energy consumption, and indeed, I have done exactly this over the last five years. And through a happy mathematical coincidence, reducing your energy use by 75% tends to bring your spending down by a similar amount, which puts you on the path to being financially independent in less than a decade.
But ideas like this don't show up on Bill's equation, because his is focused more on technology rather than Badassity. Technology helps us make a more energy-efficient car or air conditioner. Badassity is much more powerful because it helps us build a more efficient Human. 
Don't get me wrong, I absolutely love technology. Its byproducts include computers, which led to the Internet, which I feel is the biggest long-term gift the human race has invented to this point.
Technology can help us burn less energy – with one click you can buy 6 beautiful LED bulbs for your recessed can lights, which burn 85% less energy than the old kind while delivering much nicer light. One $40 purchase saves you over $750 per decade, which is a win/win. This giant LED monitor on my desk burns 75% less energy than the boat-anchor glass screens that were the norm when I started writing software in the early '90s, while giving me four times the resolution.
But sometimes technology is just used to facilitate more consumption. In 1982, my dad bought a Mustang with a 5.0 liter V-8 engine. That schoolbus-sized powerplant cranked out 157 horsepower, which was a lot for those days. Nowadays you can get that amount of power from a 1-liter engine, but instead of losing weight to benefit from the new technology the Mustang has ballooned to 3700 pounds and 435 horsepower.
Without a change in attitude, ever-cheaper renewable energy might just lead us to build houses that hover on noisy drone fans so we can take our entire dwellings with us on vacation. (If you look at the preposterous RV trend here in the US, you can see we're already on that path).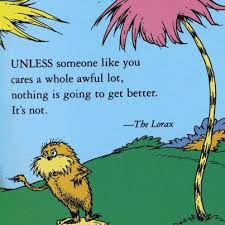 As the wise Dr. Seuss Himself said in 1971 with odd prescience:
"Unless Someone like you cares a whole awful lot, nothing is going to get better.  It's not."
Halting the decline of our ecosystem would be  ridiculously easy to do right now. We simply need to start giving a shit.
We just need get through to people who say things like, "It's nobody's business what I do with my money. I earned it, so I can spend it however I want." The statement is almost true – you should be free to spend your own money. But you should be aware, and not in denial, of when that spending hurts other people.
But I'm not Perfect – What about Consumption that Really Makes My Life Better?
Many people get angry at Mr. Money Mustache's eco-rants, and shout out that I'm not perfect myself. How can I judge you, when I regularly fly to another continent, eat a non-vegan diet, voluntarily had a child, and generally live a life of American luxury myself?
The answer is that I'm not judging you. I'm asking you to judge yourself. Just as I judge myself every day. I'm very aware that my actions cause harm to other people:
My return plane ticket to Ecuador blasted out about one metric ton of CO2 – about the same as driving 3,000 miles. I eat roughly 150 pounds of meat and a thousand eggs per year – less than the 270lb US meat average but still enough to emit another thousand pounds of CO2.
My life involves all sorts of gluttonous consumption. But the point is that I'm aware of it, so I can work to chop away any part of it that doesn't bring me great joy.
Having a grilled pork chop alongside my olive-oil-drenched salad and spiced sweet potato fries for dinner is a true joy and my body runs extremely well on the low carbohydrate diet. I would be more ethical and virtuous as a vegetarian or vegan, but I've tried both and this is the happier one for me – for now at least. Similarly, I'd save a shitload of pollution by just canceling the annual Ecuador retreat. But those weeks have been some of the best experiences of my life. To me, it was worth the pollution I created.
On the other hand, I get no joy from driving a car 3 miles to do something I could easily accomplish by bike. The energy boost and physical fitness far outweigh the convenience of traveling passively in a climate-controlled bubble. And I'm not particularly fond of sitting in airplanes, so while I have so far accepted the invitations to Ecuador, I have still had the pleasure of declining free trips to China, Thailand, Australia, England, and Italy. In exchange, I got to enjoy more time with my family here in Colorado, and the world benefited as well. Win/win.
I also get no joy from energy-inefficient light fixtures or furnaces, or from machine-drying my clothes instead of hanging them out in the fresh sunshine of my parkside back yard. These simple pleasures let my family use about 80% less gasoline and 80% less electricity than the typical US household. The comparison is even better if we compare ourselves to similarly high income US households. No virtue or sacrifice required – I get a life that is more fun, much wealthier, and happens to cause less harm to other people.
But What About the Rest of It?
If you're like me, you've made some improvements over the average rich world resident, but your life is still plenty gluttonous, and unsustainable if everyone on the planet lived that way. What can you do? You can erase your footprint with a few clicks.
Companies like TerraPass and CarbonFund have popped up to efficiently channel money into projects that soak up or prevent CO2 emissions. Preserving or planting forests, or building wind farms, catching and burning methane from cow manure for power generation instead of dumping it into the air, and plenty more interesting stuff.
Since most people don't care about this stuff yet, there is a lot of low-hanging fruit to be had. Planting a single tree can sequester a ton of CO2 for a century, yet a single person can plant hundreds of trees in a day. One of my sisters lives on a 50 acre farm that was deforested a century ago, then eventually the farming side of it was decommissioned. It's not great farmland, but the forests in the area do just fine. So with the help of an environmental fund she is planting over 4000 trees to reforest the land, with a net cost to her of less than a thousand bucks. An entire lifetime of carbon absorbed (and a beautiful new woodland for future generations of kids to grow up running through) for the price of a set of truck tires.
Hey, I can do this right NOW.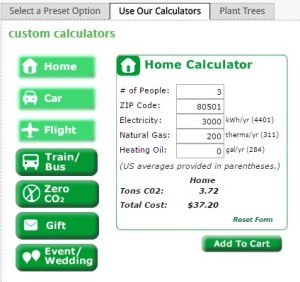 Heading to CarbonFund.org, I am filling up a shopping cart with the energy use from my household. Wow, that's cheap, $37 to offset all my household carbon? When I add in 2000 miles in my Scion xA, there is another $5.
But then there's our annual flight for 3 people to Canada to visit family: about $17 total. Wow, does $17 really offset three plane tickets? Not bad at all.
We might as well throw in an offset for all the meat and dairy eating my whole family does. Call it 2 tons of carbon and add 20 bucks – it's only ten dollars a ton.
How about my trip to Ecuador? Absorbing the carbon for that entire trip is only $12. But really, that was the third annual trip, and I played a large part in inviting the other 24 people who attended each year, alongside my co-conspirator Jim Collins. I doubt that the other attendees took the time to offset their own carbon. Let's chalk my responsibility up as 75 roundtrip flights, or $900.
I'm going add all of that up to get final bill: $37 + $5+  $17 + $20 + $900.  $979 to erase not only my own family's footprint, but the equivalent of an entire human lifetime of trips to the equator.
That is about the amount of money this article will earn from people using that Amazon Affiliate link to buy energy efficient light bulbs to save themselves money.  This is a win/win situation.
(Update from a reader: get these even cheaper ones if you don't need the recessed light style)
I can (and will) buy solar panels to power my entire household with electricity to spare, for about $3,000. Free electricity for life, for three grand. I fail to see the "lose" in this win/win.
I can swap my gas-powered car for a nearly-new Nissan Leaf, which you can get on Craigslist these days for under ten grand. The car will charge from my solar panels or from my city's wind-powered electric program, to which I've been subscribed for the past 10 years.
A decade or more of high-powered luxury electric driving, never having to buy gas (or change the oil, or replace a muffler) again, for ten grand. The car is silent on the highway and brings you Zen-like joy in traffic jams. This is not a sacrifice, it's just another win/win.
The money we pour into supporting these new projects and technologies, and divert away from drilling holes in the ground and manufacturing disposable gas-powered vehicles, will create billions of new, better jobs. When we invest in productive infrastructure rather than temporary toys for ourselves, society's wealth grows much more rapidly.
It's all really easy, and a lot of fun, if we just give the slightest bit of a shit. So I think Bill Gates can update his equation.
Here's my final checkout and the cute certificates they emailed me as receipts, Photoshopped together for blog-friendliness: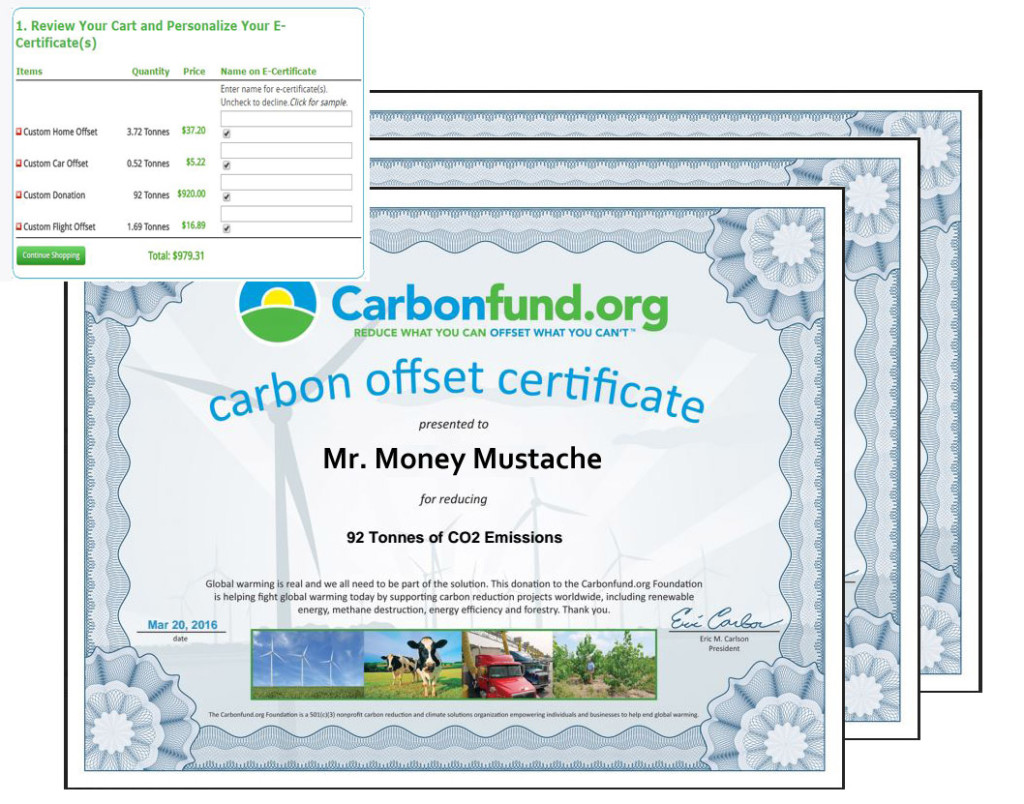 So, no more complaints or worries about climate change – only action.